San Diego Legends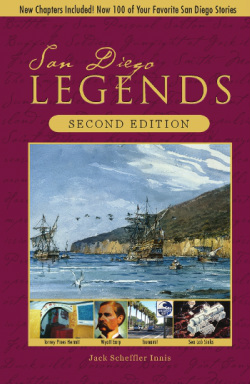 San Diego Legends, published by Sunbelt Publications, seems to have found a permanent spot atop the local best seller list.
The book brings together for the first time the many extraordinary accounts of famous and infamous people, places, and events in San Diego's past. From Father Junípero Serra and his odious sidekick Pedro Fages, to modern stars of stage and screen, you'll meet the pioneers and the plunderers who once called this city home.











---
The Torrey Pines Hermit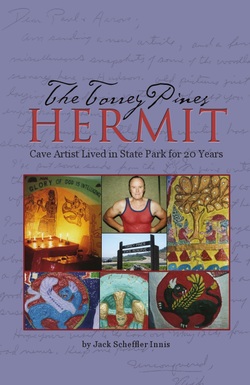 The Torrey Pines Hermit is a mini book (24 pages with historic color photos) that details the extraordinary account of one of San Diego's most interesting characters: a religious artist who lived in a hand-dug cave at Torrey Pines State Nature Reserve for 20 years.
In 1971 while exploring the desolate east side of the state reserve, 49-year-old Nick Connell literally tumbled into a ravine and decided at the moment he would take up residence right on the spot. After a powerful dream in which a white haired wise man gave him permission to begin excavation, Nick began carving into the sandstone cliff with a knife and screwdriver. Months later he created a two-room grotto he called East of Echo. Over the years, Nick decorated the sanctuary's interior walls with scenes that reflected the artist's wholehearted acceptance of all world religions.






Coming Soon!

Moonlight in the Hollow of His Hand. An extraordinary novel about a young man who gets dragged into the Civil War and must fight to reunite with the girl he left behind.





---