Now Available!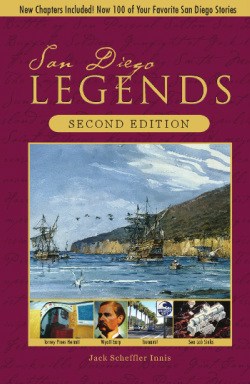 "Whether you were born and raised in San Diego or have just discovered America's Finest City, Jack Innis always has a story guaranteed to entertain and capture your imagination."

-- Marc Bailey, XETV Channel 6 News Anchor

"Jack Innis has done the near-impossible, turning local history into a can't-put-it-down epic. This lavishly illustrated book is conclusive proof that, yes, there is more to San Diego than a zoo."

-- Peter Rowe, San Diego Union-Tribune


"The colorful characters, old legends, and odd events described in San Diego Legends will help local travelers appreciate the often-quirky history of the San Diego region."
-- Jerry Shad, Afoot and Afield in San Diego County


---
Thought you knew everything about San Diego history? Bet you don't!
SAN DIEGO LEGENDS brings together extraordinary accounts of famous and infamous people, places, and events in San Diego's past. Some of history's most colorful characters have "made headlines" in San Diego — and this book has the stories behind the news stories.
These fascinating accounts range from the 1852 murder of the city's first mayor to the glamorous lives of modern stars of stage and screen who called San Diego home.
The author has also researched and included a dozen Kumeyaay Indian tales. This new second edition has 100 new stories and legends, making this the ultimate reference for San Diego's legends.